EZ-BUILD TEC,  is an Israeli Company that has developed, the Home4Ever: Next Generation High Tec building system. , after millions of dollars and years of investment.
The Home4Ever build system is a high-quality product which consists of high-grade steel and concrete, in a 6 layer construction that incorporates the most eco-friendly and energy efficient insulation, currently on the market today.
The system employs a unique and simple but brilliant steel profile which speeds up construction, reduces on the job injury and waste, all by up to 80%, resulting in 20% reduction in cost, in a clean, safe, people-friendly work environment increasing productivity and reducing costs.
The EZ-BUILD, H4E system has proven these results and has made fast and significant inroads into the Israeli building Industry.
In Israel, it's not only the economical and speed considerations that make it attractive, the SAFETY features of this new method, are incredibly attractive given the security challenges Israel has faced over the years.  In fact, the H4E system not only satisfies Israeli Building Codes but actually exceeds it.
IMAGINE WHAT IT COULD DO FOR YOUR PROJECT AND HOME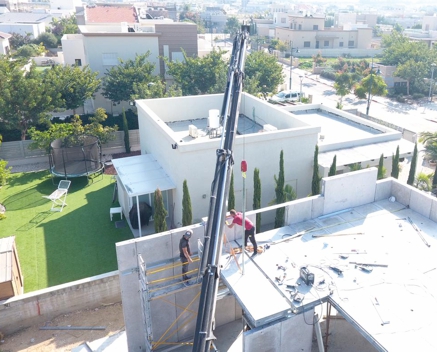 ELIYAHU EZAGUI - CEO
Why I was impelled to invent the Home4Ever module-build system?

As a young boy  in NY from a poor Brooklyn family, I worked on building sites for pocket money.  I was shocked by the huge amounts of waste and hazardous materials produced by the industry, along with the huge cost and manpower used in their transportation and disposal.

I was certain that a new improved eco-friendly, economical, more profitable, cleaner, safer, faster, high-tec, method must be possible. Some way of advancing the building trade using advances in technology bringing it inline with other industries which has already done so.

With my team of building experts, who together have over 120 years of experience in the building trade, we approached the Israeli-Arab High Tech Construction and Development Company,  a high tech Israeli world leader.  Working together we developed a traditional, but advanced new building technology to bring the construction industry into the future.

To that end, millions of dollars and 5 years were invested to solve the challenge and finally after 5000 years of human construction history, we have a practical solution currently being successfully used in the Israeli building industry.